Here is a list of all new features in PDF Studio 11.
Make sure to read PDF Studio 11 press announcement.

New Major Features in Version 11
Welcome Screen with Recent Files & Useful Shortcuts
Major Rubber Stamps Redo (Dynamic, Preview, Predefined and PDF Stamps)
Quick Text Search (in addition to Advanced Search)
Major Memory & Performance Enhancements
Many New Batch Functions (Pro)
Non-Latin OCR Languages (Pro)
Image Improvements (Unlimited size, Faster)
Font Improvements
Many Other Enhancements

 User Interface
New welcome screen that allows you to quickly open recent new files, create PDFs from various sources, or access the user guide and knowledge base.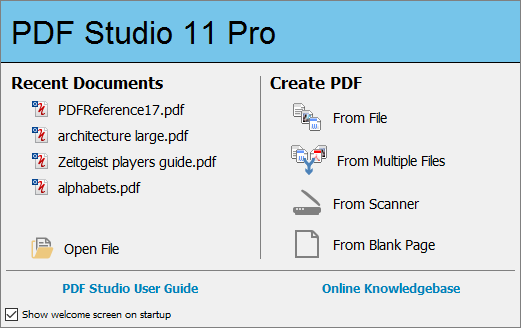 Improved UI for Header & Footer and Watermark dialogs
New page rotation icons in thumbnail pane
Improved split document menu options with default profiles
Improved progress dialogs with standard layout and more detailed information
Ability to move objects in larger increments using the "arrow" + "shift" keys
Mac: Support for the "Split View" feature
Mac: Fixed support for "Pinch to Zoom" and "Swipe to Navigate" gestures on touch pads
Updates to split document profiles

 Spell Checker for Annotations and Form Fields  
Spell check added for annotations and form fields
Options to enable/disable as well as ignore words in ALL CAPS and numbers in words
9 language options available
Support for spell checking multiple languages at once
Custom words dictionary to add/edit/remove custom words for the spelling dictionary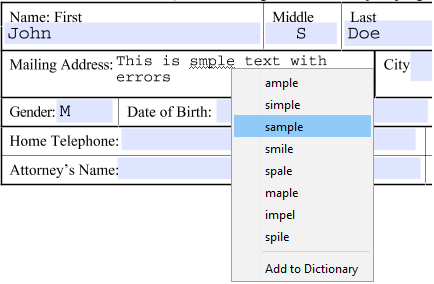 Enhanced Printer Dialog
Document Preview: preview window displaying what the document will look like once printed, navigation buttons allowing you to navigate the preview pages, and document properties showing selected paper and document sizes.
Current View: Option to print only the current view of the document displayed in PDF Studio. For example, this can be useful when needing to print a small bit of a huge technical drawing
Enhanced Page Ranges: "Pages" option allowing a custom range of pages if needed using values separated by commas. For example, to print only pages 2 to 4 & 6 to 12 & 20 of a 30 page document the user would enter "2-4, 6-12, 20″.
Print to File: Option to print to a .prn file instead of directly to the printer. This allows you to reprint the document without running or even having the original application that created the file.
Multiple pages per sheet printing options
Booklet printing options
New option to print the form field values only

 Rubber Stamps
New dynamic stamps that will add current time and date when placed
New standard "Sign Here" stamps
New text stamp formatting options including: font size, bold, italic, alignment, and border options.
Create stamps from PDFs with support for JavaScript for even more stamp possibilities
Ability to export and import all stamps when migrating to a new computer
Improved stamp manager including ability to cut and paste stamp groups

 Quick Text Search
New search dialog to quickly find the next instance of text within the document
Improved search result speed


 New Batch Functions (Pro)
New batch print dialog displays previews of all documents in batch
New batch functions

Flatten Fields
Reset Fields
Delete Comments
Flatten Comments
Rasterize
Delete Pages
Rotate Pages

 Output Preview for Overprint (Pro)
Print production tools used to simulate how the document will look once printed using different color profiles
Easily switch between print simulation and display
Change the background color of the document during simulation

 Non-Latin OCR Languages (Pro)
Ability to recognize non-latin text in a document
Many additional New Languages being added
Ability to OCR two different languages at once
Support for ligature characters

 Image Improvements
New JPEG 2000 decoder (to eliminate black spots on special image types)
JPEG transparency issues when optimizing (carry masks over to new images after compression)
Handle infinite size image other than CCITT and JPEG
New image compression options when importing images as pages
New image compression options when importing images as stamp
Better error handling for images with corrupted metadata
New JPEG2000 option when rasterizing documents
Allow editing image properties in content editing

 Font Improvements
Embedding of system fonts in Word to PDF with fallback font options
Non-Latin character improvements (most languages now supported including CJK fonts)
Form fields missing characters in sub-setted fonts (font replacement)
Annotations support for CJK fonts in text annotations appearance
Improved CJK font substitution logic to search for fonts in additional directories for each OS

 Bookmarks
Highlight current bookmark
Expand current bookmark
Support for JavaScript actions in bookmarks

 Other Enhancements
Memory and performance enhancements to drastically reduce the use of system resources (especially for Retina displays)
Settings manager to export or import various PDF Studio preferences or restore application defaults
Updated OCR engine for improved results
Embed fonts when converting Word to PDF
Incorrect font names in document properties
Ability to search text in form fields
Comments can be added to measurement annotations
Set a vertical scale for measurement annotation
Better handling of exporting grouped annotations
Grouped annotations now display children in comments pane and can be edited individually
Support for "Save As" action in buttons
No stamp preview in manager if document was not open
Stamps could be lost when cutting category in stamps manager
Unable to change standard stamp colors
Support JavaScript actions to set layer properties
Ability to select and save more than one attachment at a time
Option to delete pages after extraction