New Major Features in Version 10
Optimizer to Reduce PDF File Size (Pro)
UI Redesign & Enhancement
New Visual Comparison Tool (Overlay) (Pro)
New Printing and Scanning Dialogs
Improved Recent File List
Many Annotations, Links and Form Fields Improvements
Enhancements in Layers and Bookmarks Handling
And many more new features and enhancements…

 PDF Optimizer (Pro)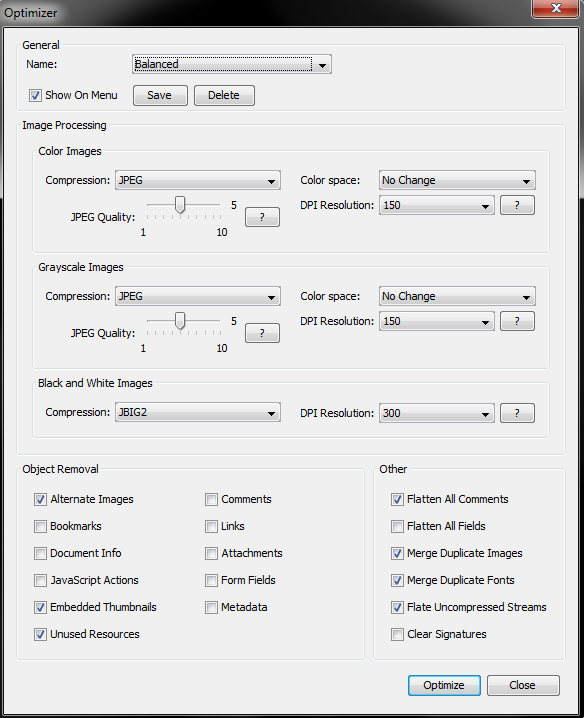 Reduce and optimize PDF file sizes with options including:
Read more about how to optimize PDF documents with PDF Studio
Image Processing: Changing the compression, down sampling, or changing the color space
Object Removal: Removing unused resources, attachments, alternate images
Other Options: Flatten comments, compressing uncompressed streams, merging duplicate fonts and so much more!
Batch optimize multiple files at once

 UI Redesign and Enhancement
Icon redesign to a more modern design that's easier on the eyes
Consolidated menus for faster access to tools and options
Added more keyboard shortcuts
Added progress information for advanced functions
Improved Navigation
New view option for Rulers & Grid display with customizable options
New view option for Reading Mode (it is not a full screen but all toolbars and panes are hidden to enhance the reading experience)
Undo & Redo toolbar buttons can be enabled in preferences
Save As toolbar button can be enabled in preferences


Touch Mode for Tablets
"Touch Mode" makes PDF Studio 10 more user friendly on touch screen enabled PC and Tablet devices including Windows Surface Pro!
Enlarged re-size handles on annotations and form fields for easier control

Enlarged resize handles and Mini Toolbar

New large and extra large icon sizes for easier viewing on high resolution displays
Enlarged fonts and rows in comments and thumbnail panes.
Touch mode button for easy switching between modes
Mini toolbar during object selection for quick access to delete & show properties
Viewing pane navigation buttons for previous and next page
New PDF to HTML5 Conversion (Pro). Look under File>Convert to…>HTML5 / SVG 
Improvements to our proprietary Word to PDF converter, including support for WMF images used for mathematical equations and formulas.

 Overlay Comparison (Pro)

Compare 2 drawings or documents and immediately identify the differences using color coding:

Elements present only in first drawing appear in red
Elements present only in second drawing appear in green

Alignment tools allow moving and resizing second document dynamically for perfect match
Easily switch back and forth between overlay comparison and side by side comparison. (Pro)
Option to export the overlay comparison as a new PDF, with the 2 drawings included as layers.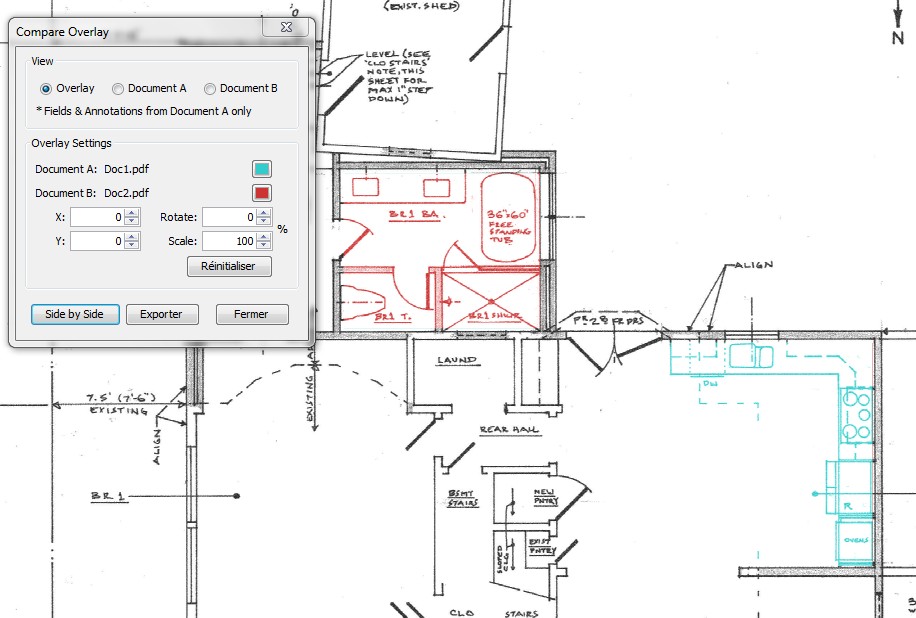 Layers
Assign comments to a layer through the properties dialog
Flatten all comments belonging to a layer through the layer context menu
Support for Show/Hide layers action in form fields, links or bookmarks
Add new layers through the layer pane toolbar (Pro)
Assign an active layer to add comments to through the layer context menu (Pro)
Import PDF as a new layer or on an existing layer (Pro)
View and edit layer properties (name, default state, show on print, locked) (Pro)
Fix issue with layer visibility for nested layers
New PDF Studio Print Dialog. New options for printing: printing specific pages, reverse pages, show or hide comments, etc…  This will give more possibilities for printers / drivers that don't support all features, especially on Linux.
Support for WIA scanning on Windows
Support for ICA scanning on the Mac
Improved PDF creation options when scanning. Added a "Reverse Interleave" insert option useful to scan double-sided when scanner does not support duplex.
Option to split by blank scanned pages, i.e, pages that look blank versus pages that have no content
Linux – Fix scanning issue with certain scanner drivers reverting from the selected scanning resolution to the default resolution, set at 75DPI.
Improved Recent File List will now keep 500 files in the history, with easy access to the 10 most recent files.
Recent files are ordered by period:  This Week, Last Week, 2 Weeks Ago, 3 Weeks ago, etc…
Ability to clear recent file list history.
New user preference allowing to restore page view and magnification when reopening a document. Look under Preferences -> Display.

 Annotation Improvements
Movable vertices for poly-line and polygon annotations
Support for border style (dash, cloud, etc…) in all shape annotations
Measurement annotations improvements: new option to display area and perimeter measurements on the page.
Changing caps only when editing annotation note or author would not save / take effect
Improved curve smoothing on pencil annotations: No longer cutting off edges. See also the new pencil tool property "Smooth Curves" that allows to turn curve smoothing off. Tablet users have asked us for this as the stylus already performs some smoothing…
Added ability to create points or dots with the pencil annotation. (Previously dots were not recognized)
Change transparency dynamically to existing and custom rubber stamps
Change the z-order of annotations with new Send to Back/Bring to Front options
Text annotations in Linux not displaying in Courier font.
Edit multiple annotations at once through the properties dialog (in version 9, this was only possible through the quick property toolbar).
New "Text Property" toolbar for interactive objects, separate from the visual property toolbar, customizable with bold and italic.
Pasting text from Outlook, Word would sometimes create a black image stamp.
Sticky fields to add multiple fields easily
Added sticky and default tools properties for form fields
New option to always show properties dialog when adding a field
Form Field Editor (Pro): Edit field names directly in the field tree
New "reset" option in form field context menu (in form edit mode)
Improvements to the combo field editing
Support image scaling in button field
Support all image types (not only JPEG) when importing images into a button field with Javascript (event.target.buttonImportIcon())
Handle both field widget and page rotation for text orientation
Display compression & DPI under image object properties
Display color spaces for path and image objects
No more refresh issues where objects seemed to be disappearing when moved (due to clipping issues on specific documents)
Font size for text content object would sometimes be incorrect under the properties dialog
New OCR resolution option to reduce noise and improve results

 Redaction (Pro)
New option in Redaction to add text to the redaction annotation with properties for font, font size, auto resize, color, alignment, and repeat text. The text is added on top of the redacted rectangle when the redaction annotation is burnt or applied. Look under the properties dialog or under the Redaction tool properties under Preferences -> Comments.

 Bookmarks
More options when editing bookmark actions: zoom and option to set the destination visually
Edit the style of multiple bookmarks at once.
Set defaults for bookmarks style
Allow selection of multiple bookmarks at different hierarchy levels
Left, right, up, & down arrows to move bookmarks in the tree
Cut/ paste bookmarks in the tree (in addition to existing cut and paste)
Split by blank scanned page – set the tolerance levels for blank pages to easily split scanned pages that may still have small marks on them.
When 2 tagged documents are merged, the tag structures are also merged.
New functions in the thumbnail pane when multi-selecting pages:

When dragging thumbnail across documents, support for modifiers: Shift (or no modifier) +Drag to move pages, CTRL+Drag to copy pages
When dragging out thumbnails, create a new file in a folder on your machine with the selected pages
Also see new entries for "Copy to New PDF" and "Move to New PDF" under the mouse context (right-click) menu.
Link tool now highlights all links so they are easily identifiable and editable.
Linux – Support for Thunderbird email application or customize to open any other email application.
Fixed issue when reading EchoSign digital signatures when reading the signer and expiration date info.
Linux – Added Chrome to the list of supported browsers for opening links. PDF Studio will open the first browser found on the machine, among the following: "firefox", "opera", "konqueror", "epiphany", "mozilla", "netscape", "google-chrome".  The issue with this approach is that it does not use the default browser but it is the most reliable approach for opening a browser across all Linux distributions.
New function to "rasterize" a PDF, which consists in re-creating the document using images of the pages instead of vector commands. Look under Images -> Rasterize PDF. It's a shortcut for exporting a PDF to images and then re-importing the images into a new PDF.
Search dialog user interface was a bit improved. Also, upon opening the dialog, the search box will now default to text currently selected in the document, if any. A problem with slower speed on subsequent searches was also resolved.
More support for undo: allow to undo adding attachments and importing annotations.
Show if a document is tagged for accessibility under Document Properties.
Under document properties, xmp metadata will now show in an expandable, collapsible tree.
Removed integration with document services (Google Drive, Sharepoint). Read why.
Ability to specify custom page size when adding a blank page
New user setting to disable in-app messaging
Some improvements CJK fonts support.
Mac – ability to drag and drop supported image files and Word documents into PDF Studio app for a conversion to PDF on the fly.
Improvement to PDF Studio log files to help with customer support.