The new "Inline Text Content Editing" with reflow provides user friendly text editing directly on the page. Advanced text recognition logic improves editing by linking all text strings within the PDF so that users can edit text without worrying about text reflow or manually creating line wraps. Edit text across multiple paragraphs; modify layout by resizing or moving boxes; change font, styling (bold, italic, color) or alignment just like in a word processor.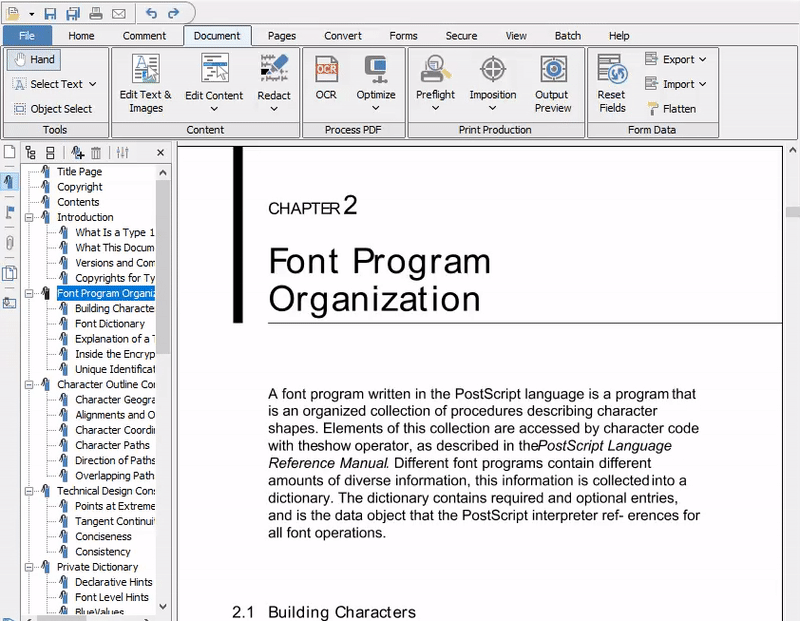 How to use the new Edit Text & Images tool
Inline text content editing is built into the new Edit Text & Images tool. This tool you to either edit text directly on the page or select images to rearrange during editing if needed.
Activate the tool by clicking on the  Edit Text & Images button on the Document Tab
Then click or drag an area with the mouse to select the desired content. Once selected, content can be edited, moved or deleted following the instructions below.
Editing Text
Select the text you wish to edit
Move or Edit the text by doing the following

Move: Click on the text and drag it to its new location on the page.
Edit: Double click on the text to enter in line editing mode. Begin typing just as you normally would to edit text directly on the page. Text will automatically reflow and wrap based on the original paragraph size within the document.

Once complete, to exit Content Editing mode, simply click on the hand tool  or Esc on the keyboard
Note: if Edit Text & image tool does not work as expected, you can revert to the Edit Content tool.
Editing Images
Select the text you wish to edit
Move or edit the image by doing the following:

Move: Click on the text and drag it to its new location on the page.
Edit: Double click on the image to access the Image Properties. Click on the "Edit" button to display the image editing options. Choose the options you wish to change for the selected image and click OK when done.

Note: Editing the image properties cannot be undone without reopening the original document. Make sure to select the settings appropriately.

Once complete, to exit Content Editing mode, simply click on the hand tool  or Esc on the keyboard