I'm running on Windows 7 and with the new 2022 version I keep getting a "Com Surrogate has stopped working" error. I have to click "close program", the thumbnail is generated and the same happens for every thumbnail/pdf file in the directory.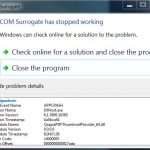 On some instances of Windows 7 the new thumbnail handler may run into an error. We are still trying to narrow down the exact cause but for now you can disable this feature by doing the following:
Open a file browser and navigate to the PDF Studio installation directory – C:\Program Files\PDFStudio2022\
Find the "C:\Program Files\PDFStudio2022\"
Right click on this file and choose "run as administrator"
This will remove the thumbnail handler and should prevent the issue from occurring further
We will continue to look into the issue and if we find a solution we will release an update.