Q: How can I make a tool stay active so I can use it many times in a row without having to start the tool again and again?

A: You will need to make the tool "Sticky". In PDF Studio there are 2 ways to make annotation tools sticky.
How to Make an Annotation Tool Sticky
From the Toolbar:
From the toolbar, right click on the tool that you would like to make sticky, and then click on "Sticky" in the drop-down menu.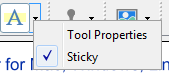 From the Preferences Dialog:
From the top menu, Go to Edit -> Preferences  which will open the Preferences dialog.  Click on the Comments tab on the left.  Click on the tool that you wish to make sticky.  Click on the "Sticky" option.
Below is the Tool Properties dialog for Polyline tool.